Hyundai i30 is 2008 Car of the Year in Spain
The Hyundai i30 has been voted Spain's 2008 Car of the Year by ABC, one of the country's biggest newspapers. Never before has any Asian product won this prestigious trophy since the first vote was held in 1973.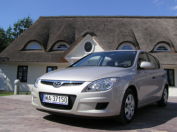 With a score of 220 points, the Hyundai i30 was a clear winner ahead of the other contenders including the Fiat 500 (52 points) and Ford Mondeo (32 points).
The Hyundai i30 won this title for its favourable equipment/price ratio, modern, dynamic styling as well as excellent driveability, especially the 115hp diesel variant.
The latest addition to the Hyundai range, the dynamic i30 represents a milestone in the mid-size car category. Offering a class leading combination of comfort and refinement, interior space, economy and exceptional levels of standard equipment, it really is the complete all-round package - as the many favourable press reports will testify.
The new i30 sets the standard for safety and security for mid-size hatchbacks, boasting features such as Electronic Stability Programme (ESP), Anti-lock Brakes with Electronic Brake force Distribution (EBD), 3x3 point rear seatbelts and multiple airbags.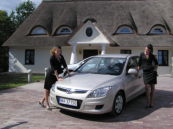 The i30 has been designed specifically with the European driver in mind. Flowing curves and strong character lines highlight the broad stance and long wheelbase of the i30. Distinctive front and rear end styling work to draw your eye across a design that is both refined and confident.
The i30's interior space is maximised thanks to the long wheelbase and clever storage areas. Soft touch plastics on the dashboard and distinctive seat facings on each model enhance comfort to give both driver and passengers a luxurious experience at all trim levels.
These are all the models winning Spain's Car of the Year honours since 1973:
- 1973: Renault 5
- 1974: Citroen GS
- 1975: Simca 1200
- 1976: SEAT 131
- 1977: Citroen CX
- 1978: Chrysler 150
- 1979: Renault 18
- 1980: SEAT Ritmo
- 1981: Talbot Horizon
- 1982: Ford Escort
- 1983: Renault 9
- 1984: Citroen BX
- 1985: Peugeot 205
- 1986: SEAT Malaga
- 1987: Renault 21
- 1988: Citroen AX
- 1989: Renault 19
- 1990: Ford Fiesta
- 1991: Renault Clio
- 1992: Citroen ZX
- 1993: Fiat Cinquecento
- 1994: Citroen Xantia and Renault Twingo
- 1995: Renault Laguna
- 1996: Fiat Bravo/Brava
- 1997: Renault Megane
- 1998: Alfa 156
- 1999: Peugeot 206
- 2000: Fiat Punto
- 2001: Chrysler PT Cruiser
- 2002: Peugeot 307
- 2003: Citroen C3
- 2004: Citroen C2
- 2005: Peugeot 407
- 2006: Peugeot 1007
- 2007: Peugeot 407