Poland: Samar releases new-car, import sales figures through November
Producenci i importerzy niezrzeszeni w PZPM
|
PZPM - Polski Związek Przemysłu Motoryzacyjnego
|
IBRM Samar
|
Dec 7, 2007 5:03 PM
(Dec 10, 2007 10:23 AM)
Print
Send
Poland's market for new cars sold 24,546 units in November, down by less than 0.5% from the month, but rising by roughly 16% from the same month of last year.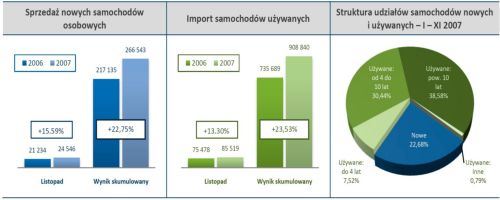 On a cumulative basis, the tally was 266,543 units, a 22.75% increase from the year. Taking into account the current market trends, Samar expects 2007's full-year figure to top 292,000.
However, Poland's supply of used cars remained high last month, with the November figure of 85,519 for a 13.3% rise year-over-year. On a year-to-date basis, the tally was 908,840, of which roughly 50% were cars more than 10 years old. By way of comparison, cars up to 4 years old, at 88,392, had a 9.7% share, while cars between 4 and 10 years old accounted for 39.4% of the supply (357,782). The average age of Poland's imported cars was roughly ten years old.
With the new-car sales and import figures combined, Poland's car registrations reached 1,175,383, for a 23.4% increase year-over-year.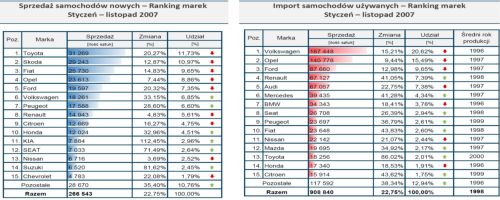 With 31,269 units sold through November, Toyota remained Poland's top-selling new-car brand (+20.3%), leading the way ahead of Skoda (29,243 [+12.9%]), Fiat (25,730 [+14.8%]), Opel (23,613 [+7.4%]), Ford (19,597 [+20.3%]), Volkswagen (18,261 [+33.2%]), Peugeot (17,588 [+28.6%]), Renault (14,943 [+4.8%]), Citroen (12,669 [+16.3%]), and Honda (12,024 [+33%]).
Outside the Top-10 list, record sales gains were posted by No.11 Kia (7,884 [+112.5%]; 968 in November [+174.2%]), No.12 SEAT (7,033 [+71.5%]; 901 in November [+92.9%]) and No.14 Suzuki (6,520 [+81.6%].
Crucially, Poland's Top-15 new-car brands accounted for almost 90% of the total sales volume, with the other 28 players commanding a 10.76% share.
In the market for used cars imported into the country, Volkswagen was the most imported brand with 190,000 units (+15%), leading the pace ahead of Opel (141,000 [+9.4%]) and Ford (87,700). Interestingly, the January-November supply of used cars saw some premium brands secure a Top-10 finish, including No.5 Audi with 67,000 units (+23%), followed by No.6 Mercedes-Benz (40,000 [+41%]) and No.7 BMW (34,343 [+18.4%].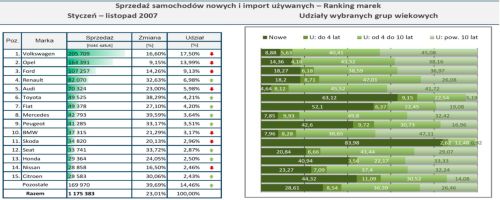 With new-car sales and import figures combined, Toyota was the sixth-ranked brand overall with 49,500 units. Crucially, Skoda had the biggest share of cars up to 4 years old in brand registrations overall (86.6%), followed by Toyota (72.3%) and Fiat (58.5%).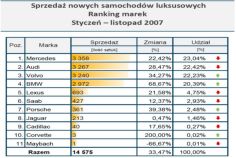 In the market for new premium brand cars, Mercedes-Benz was the top-ranked player with a 22.4% improvement, leading the way ahead of No.2 Audi (+28.5%) and No.3 Volvo (+34.3%).